DQE Communications Lights First Buyer in Harrisburg – JSA
Demand for regional fiber providers like DQE grows as Harrisburg cultivates growing tech industry
DQE Communications, a Pittsburgh-based, regional provider of fiber optic networking solutions, is now officially on its way to creating a new hub for its services in Harrisburg, Pennsylvania. Earlier today, the company, led by CEO Jim Morozzi, announced that it has connected its first customer in Harrisburg, leveraging a 285-fiber mile expansion that passes from Indiana through Johnstown, Altoona, State College and Shippensburg. With an additional 90-mile metro ring currently under construction in Harrisburg, businesses in the area will be able to access all of DQE's service offerings.
"As a business with deep roots in Pennsylvania, we want to help all businesses in the commonwealth succeed," says Jim Morozzi, CEO of DQE Communications. "For years, we've helped businesses across western Pennsylvania and parts of Ohio and West Virginia with their network needs. Now, our strategic expansion eastward into Harrisburg takes much needed fiber optic services into a growing area where demand is high. We look forward to offering the same exceptional customer service and network services to businesses of all sizes and types in the Harrisburg area so they can continue to grow."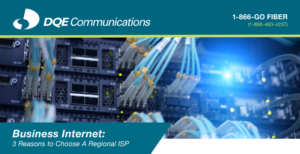 In recent years, Harrisburg has undergone rapid growth, creating more demand for reliable fiber and internet services. Last year, the city was named to Forbes list of Best Places for Businesses and Careers because of its growing technological industry and its vastly diversified economy. In a market such as Harrisburg, regional fiber providers offer an attractive alternative to organizations in need of fast, secure, reliable IT services.
For example, DQE has a dedicated team of professionals in Harrisburg that can leverage their expert knowledge of the city's infrastructure and the company's capabilities to create customized solutions. Similarly, through partnerships with Tier-1 upstream providers, DQE can offer its customers the levels of redundancy they need, helping them stay online and focused on growing their own operations. In the case of DQE's first Harrisburg customer, the DQE team lived up to its reputation, working closely with them to bring fiber into the building to connect to the DQE network. Download DQE's latest ebook on regional fiber providers for more information.
To read the full release and learn more about DQE, visit dqecom.com.